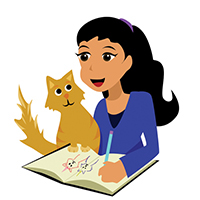 Hello,
My name is Joanne Garcia and I am a 2d/3D Artist.  Over the years I have worked as a rotoscope artist, 2D/3D instructor, crafts demo instructor, designer, storyboard artist, social media artist, illustrator, animator, Senior 3D Generalist, and games designer for web and mobile games.
I have a Bachelors degree in Animation and Entertainment Art from California State Fullerton University.
In 2017 I self published my first children's book "Girafficorns", which can be found on Amazon.

Programs: Autodesk Maya, Photoshop, Illustrator, After Effects.
Traditional skills: sketching, animation, sculpture, jewelry design, and crafts.
I love working with others to create awesome projects.
I currently sell my art (Fierce Fantasy Designs) at several conventions (Wonder Con, Cat Con, Designer Con).  Should you see me stop by and say "Hi", I would love to meet you.  Art is my passion and I love creating art in different forms, from traditional to digital and beyond.
Contact me at joannegarcia475@gmail.com
Follow me on Instagram: fiercefantasydesigns